Jeannette Zes Giovani, Gloria Oviedo Perez and Danah Alzeiby, Management and Information Systems: Change and Development and ICTs for Development students
Learning is always exciting, and it is even more amazing when we can witness real-life applications of the courses and techniques we have learned at the University. In our case, as postgrad students of the Global Development Institute, it involved a trip to one of the most beautiful destinations in the world, South Africa. Cape Town is a leader in ICTs and the next niche for emerging technology companies, in addition to being a developing country with noticeable societal challenges. Thus, it was the ideal place for us, as students, to compare and see in practice some concepts such as the digital divide, the use of ICT in different industries, and to evaluate Information System success/failure through various frameworks/models that we learned in the classroom, all of which play in real life.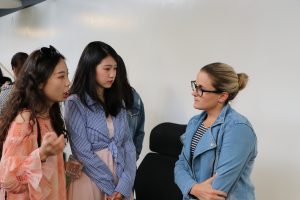 After a journey that lasted more than 15 hours heading from the cold of Manchester, we reached the sunny and warm city of Cape Town for a ten-day fieldtrip. This experience is an essential part of the master's programmes offered by GDI's Human and Digital Development cluster, to link studies to real-life applications. This is done with the purpose of providing the students with a clear picture about the current problems in developing countries in their field of study, and invite them to analyse more comprehensively the use of ICTs in healthcare, agricultural production, governance and entrepreneurship.
During the trip, we visited up to 13 private and public organisations in Cape Town, which included Cape Town City Council, Cape Access Community Telecentre, Duferco Steel Processing, Workshop17, and RLabs. Visiting organisations from various sectors (government, private sector and NGOs) and different fields, showed us that the use of ICT is more profound than mere digitisation.
Each organisation shared with us how different technologies and data management practices can help solve problems in inequality. The first organisation we visited, Cape Town City Council, talked to us about how they use data for better decision making. Cape Town's data strategy is recognised around the world for being key to solving its water crisis in 2017. Data allowed the city to keep track of their consumption, the efficiency of their infrastructure and in managing resources. Cape Town has also exploited data to improve service request, safety and security.
Moreover, during our meeting with officials from the health sector of Western Cape Government, we were introduced to a quite robust system of information systems and data, that the government has in place to improve the experience of citizens with health services and provide clinicians with digital tools to manage their processes and information. This organisation showed us the importance of design and user-friendly digital environments.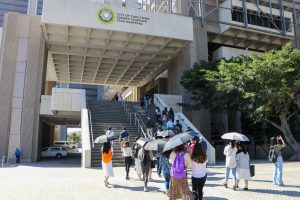 We also witnessed how ICTs are improving communities. The African continent is rich in its human and natural resources, yet it is at the bottom in terms of development, with high poverty and unemployment rates. This bitter reality requires to search for the best ways to exploit the available capabilities. One of the most important ways to do this is by employing youth to serve their society, hence the idea of RLabs Zlto. Zlto aims to rebuild communities through innovation, technology and education by making opportunities accessible to unemployed youth, so they gain profit and benefits from various services by sharing their business ideas or social services in safe ways, removing them from the periphery of dangerous gangs as a hope to develop themselves, their society and thus their beloved country.
There are three essentials lessons from the visits we made; first, we learned from the City Council that open data can help improve the nation's economic condition. How is it possible? Open data is data that anyone can access, use and share. Governments, businesses and individuals can use open data to bring about social, economic and environmental benefits. Second, we gained insights from Cape Access, with ICTs intervention will help people to access the learning skills that will enhance employment opportunity. Third, technologies can also be a medium to help people in need for a job. Applications like Zlto encourage people to do community service that can be converted to vouchers to get clothes and transport tickets that can help them, later on, to go to an interview when searching for a job.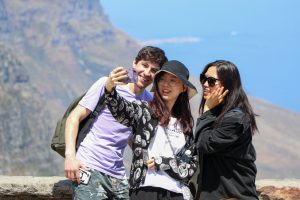 Besides learning, we also had the chance to see the beauty of South Africa in places like the Kirstenbosch Botanical Garden, a UNESCO World Heritage Site, that contains over 7000 species of plants from southern Africa. Also, the Penguin Bay in Boulder Beach, home of endangered species of African Penguins. Now the population is estimated between 2,000 and 3,000 penguins. And finally, Table Mountain, famously known as one of the oldest mountains in the world with its 600,000,000 years old rocks on the mountain. The downtime we had in Cape Town was so much fun! The city is full of things to experience like new food, lively music, beautiful sights and amazing sunsets. Every day was a unique experience.
Experiencing all those new places was a great opportunity, especially because we did it together with friends coming from different countries of the world. This trip tightened our bonds, and helped create long-lasting friendships that will continue even after graduation.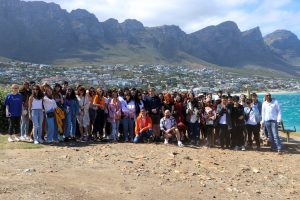 As students, these visits gave us insight into real work done by cities around the world. We could understand much clearly how technology has been an enabler for their achievements and at the same time, posed challenges on them such as; to help on the challenge on how to digitise Rlabs content for students to access courses online via learning system. One thing we could say these organisations all have in common is that they all keep in mind the connection between the use of technology and the interests and goals of the community, which we believe has made their projects successful. Now, we cannot wait for the journeys ahead after graduation, so we can continue working to create tangible solutions using ICTs and Information Systems that bring a significant impact and drive change for a better future.
Lastly, we would like to extend a big thank you to The University of Manchester and the incredible team travelling with us for making sure we could learn and visit as much as we could in Cape Town.
South Africa fieldwork is part of the following courses:
Note:  This article gives the views of the author/academic featured and does not represent the views of the Global Development Institute as a whole