by Paul Barry and Lujia Feng
Students on the Management and Governance in Development Group in the Global Development Institute had a workshop on the recruitment and application process of IBM. The workshop provided students with insights into of practice-focused human resources and career development This workshop focused on the recruitment and application process in IBM in the UK and China. Guest speaker, Kashif Taj, is IBM's Early Professionals Manager and linked Human Resource theories and practice through issues and examples of experience. Reflective learning, group discussion and a mock assessment centre also took place to offer a unique opportunity for students to engage with an experienced HR partner based in an international organisation.
"This workshop is really helpful and full of details and inspirations about IBM, although this workshop is for a certain part of a certain company. The knowledge shared by the lecturer is useful for both career development and our study. The lecturer explained the graduate application process step by step. He also gave tips in each stage to enlighten us to work on application in small groups. In this way, we had a chance to have a feeling on how to apply for a job in IBM. It is not only useful for IBM, but also for other companies. Overall, it is a great experience for me." 
MSc Human Resource Management (International Development) programme student
"The workshop was very useful and successful. The lecturer introduced the information on the recruitment process of IBM and gave us practical suggestion on how to write a CV for job application. As most of us don't have full-time work experience before, it is really helpful for us to find a job in future. Hope we can have more workshops like this. The practical and interactive workshop is helpful as the lecturer divided different parts in the application form and explained how to fill in each part to us with details. I've learned to construct my answer based on the STAR methods to make it more logical and clear. I've also learned from the discussion with our group members from a diversity of backgrounds and learning experiences. Generally speaking, it is a good educating process in attending the workshop."
MSc Management and Implementation of Development Projects Programme student.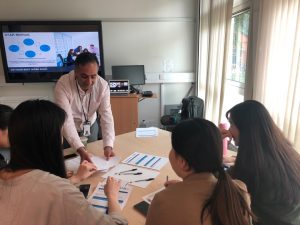 Interested in studying with us? The Global Development Institute offers programmes in
Thank you to Kashif Taj for making this workshop possible and sharing his work experience on Human Resource Management with our students.
Note:  This article gives the views of the author/academic featured and does not represent the views of the Global Development Institute as a whole