GDI offers a range of taught master's programmes focusing on human resource management, organisational change, human resource development and managing and delivering development projects.
The MSc Human Resource Management programme aims to equip learners with a robust theoretical framework for careers in human resource management and at the same time to provide students with an opportunity to gain insights into practice-focused human resource practice across a wide range of management contexts and sectors.
The course has been developed to offer student engagement with a wide range of organisational contexts in the field of HR practice, with a focus on the professional, cultural and social dimensions of their experience. This engagement is achieved through a two-semester Enhancement Programme of organisation-based experiential learning experiences, including residential and day field visits to public and private sector organisations, complemented by visits to the university by experienced, organization-based HR practitioners.
This year, due to the impact of Covid-19, alternative plans have been made for the enhancement programme to invite guest lecturers from different organisations to engage on matters of HR Practice with HRM students. On 4th February 2021, the Human Resource Team at Hermes Airports in Cyprus (a Public-Private Partnership, Build-Operate-Transfer project – internationally recognised as 'best aviation project in Europe') provided outstanding inputs to a webinar with students. The webinar included an overview of Hermes Airport Group's work at Larnaca and Paphos, with a specific focus on issues in human resource management, leadership and staff wellbeing in the context of Covid-19.
This supports these GDI students' learning experience by linking their study of HR theory with practice in different organisational contexts and also facilitates our cooperation with some of our previous fieldwork hosts.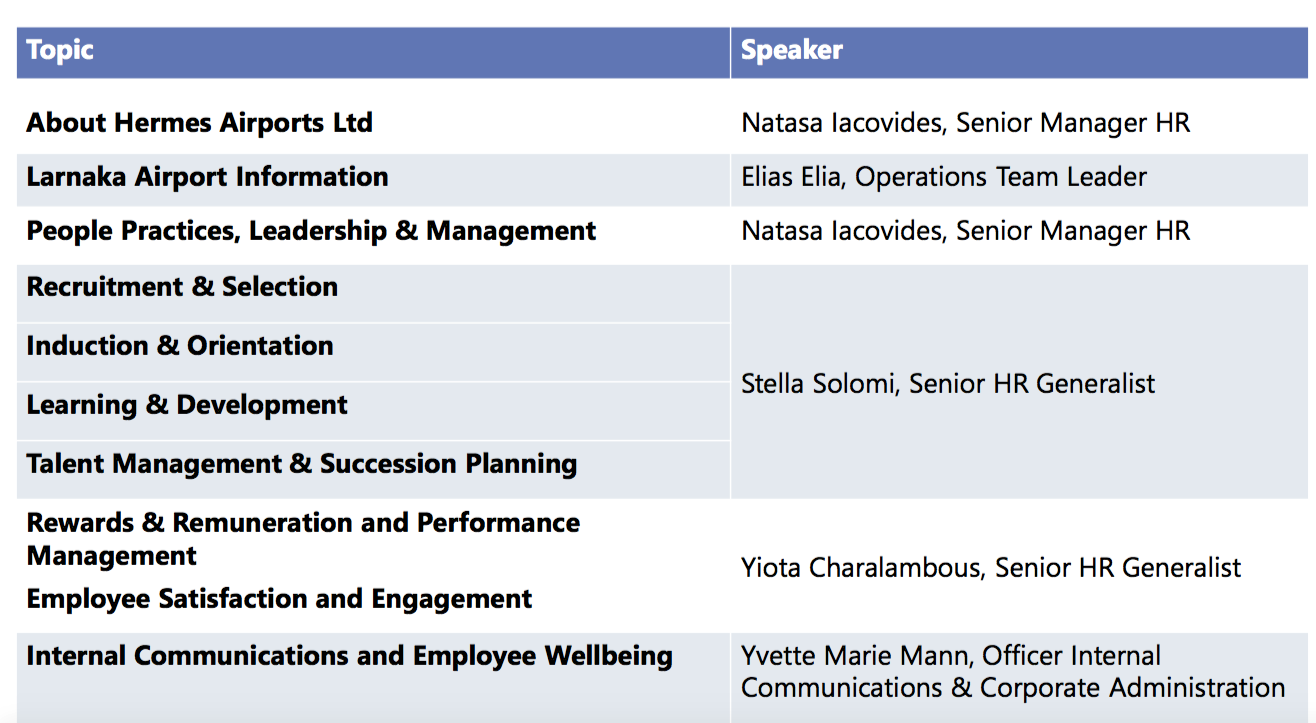 Student representatives of the MSc HRM (ID) Programme Federica Cavallere, Grishma Kumari and Shah Md Azimul Ehsan reflected on their experience of the Webinar on behalf of the 180 students that attended:
Students really appreciated the presentation given by the team from Hermes Airport. The presentation was very well outlined, properly coordinated and detailed. Although this year we could not go for a field visit to this particular organisation, the presentation itself was so lively that it did not make us feel that we were physically not present there. 
Students really appreciated the fact that before making a discussion on how the HR practice functions in Hermes airport, a broad overview was provided to understand the national context as well as the demographic factors. This facilitated a better understanding of the organizational setting. In addition, the positive changes in HR practices that have taken place in the organization since 2013 also fascinated the students. 
Moreover, the presentation helped us to relate to practice most of the theoretical aspects of HRM – for instance, diversity management, training and development, the role of leadership in organizational success, how the work environment can positively contribute to higher organizational returns etc. – and to critically apprehend how things do work in reality.  
Furthermore, the female students were highly inspired by seeing how so many successful women are occupying different executive and managerial positions in the organization. Finally, it can be said the presentation was a comprehensive one in all aspects and the recipients (students) were very much satisfied with it. 
Siqi Wu from MSc HRM (ID) reflected on the Webinar:
The presentation from Hermes Airports helped me learn a lot. Different levels and functions of the guest speaker were invited to give us a comprehensive perspective. From this class, we could build a big picture of the company's practice in all HR relevant areas: recruitment & selection, induction & orientation, learning & development, talent management, reward & performance management, leadership and so on. It is great to connect what the team said with what we have learnt from other HRM courses. Especially, the team mentions that it is the personality of candidates that matters rather than their gender. This inspires my thinking together with what we learn from having a diverse management.
In short, HRP2 is an informative and well-planned course. I will recommend it to students who want to know more about the real HR practice in different organizations.
Xiaohua Cui from MSc HRM (ID) gave this feedback:
Although we were not able to visit different companies in depth this year due to the pandemic, Dr Feng invited HR teams from large companies to our classroom to share with us their real HR strategies. This has helped us to understand better how to apply it in practice than in remaining with the theory in the literature. The COVID-19 pandemic is a new type of issue that HR needs to face and as students, we have no way of getting help and advice from the literature, but the opportunity for talking to practitioners in different kinds of business has helped us to understand better. The HRP2 Guest Lecture has given us a glimpse of different companies, different HR policies and what the future may hold for us.
For further details about the Global Development Institute MSc programmes in Human Resource Management (International Development), please visit the GDI website.
Thanks again to our colleagues, Natasa Lacovides, Yiota Charalambous, Stella Solomi Yvette Marie Mann, and Elias Elia in Hermes Airport Ltd. Cyprus, for making this Webinar possible and sharing their working experience on Human Resource Management and Operational Management with our students.
Photo by Simon Abrams on Unsplash
Note: This article gives the views of the author/academic featured and does not represent the views of the Global Development Institute as a whole