Mr Paul Barry, Teaching Fellow  and Dr Lujia Feng, Lecturer in Human Resource Management 
In Semester One, students studying Human Resource Management are able to take the Study Enhancement Programme. The Programme includes organisational visits and guest lecture sessions, which provide the students with an opportunity to gain insights into some of the practice-focused human resource and international management challenges with illustration from case studies in different organisational contexts.
The students visited World of Wedgwood Factory and Museum in the Stoke-on-Trent, Staffordshire and the nearby Trentham Gardens and Estate as well as Jaguar and Land Drover in the Halewood Education Centre, Liverpool. Additionally, the students attended guest lecturers from Manchester City Council and Aneurin Bevan University Health Board. These sessions allowed students to gain more insights into some of the practice-focused human resource management challenges and solutions faced in different organisational contexts. 
Students of the MSc HRM (ID) Programme reflected on the Study Enhancement Programme:
MSc HRM (ID) representative, Yue Cao: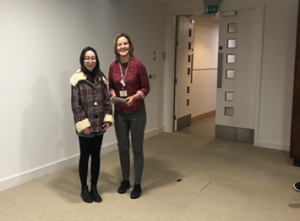 During this semester, the school provided us with the opportunity to visit the organization more than once, to help us combine theory with practice. During the visit to Wedgewood, we were divided into different groups with dedicated staff to explain to us so that we can understand the basic information and history of the company. There are professionals from the enterprise HR department who briefly introduced their daily work and job responsibilities, which is helpful to combine theory with practice especially for some students who have no work experience before.
The school also arranged two guest lecture sessions for us, both of them had explained the practice of HRM in reality organizations. For example, the guest lecturer from Aneurin Bevan University Health Board, mainly focused on organizational strategy and the role of HRM. She not only introduced the organizational workforce and the structure of their staff team, but also explained the responsibilities of a manager and the importance of benefits by using a real example. All of these activities did give us an insight into the specific application of HRM's theory from another aspect. We are very grateful for these experiences and hope to get more similar opportunities in the future.
 MSc HRM (ID) representative, Le Xu:
As a student in HRM course, I am really thankful for the precious chance to visit Jaguar & Land Rover factory located in Liverpool. It is the first time that HRM course has ever had the opportunity to visit there, that was quite a great trip fulfilled with surprises.
The HR team leader gave us a wonderful presentation, telling us that we have to be innovative enough to do the HR properly and we may run into all kinds of challenges by using their own experiences. Since they are running this warehouse with over 40,000 employees, it is essential to keep the contract being improved all the time. They even conduct enquiries about the contract or general HR questions among employees to ease their concerns. What's more, before recruiting someone, they have to think about what kind of skill sets are going to be needed and maybe they will have to fill in the gap when someone is retiring.
We had such an educative field trip the other day, hope we will have this kind of chance in future and thanks for our professors to schedule this amazing thing for us.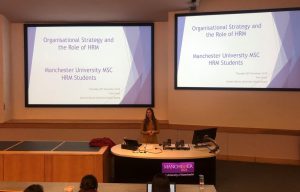 MSc HRM (ID) representative, Jingyang Zang and Xiangshu Hao:
Thanks to our diverse curriculum provision, it gives us the opportunities to visit different organisations. Through the visits, we understand organisations have faced challenging environment today, for instance, because people don't have enough freedom to do what they can do in terms of the standard process. And organisations have to find effective ways to communicate with workforces to motivate them as they have to do the same job every day. As we know, employee engagement is essential in the workplace to get a better outcome. Indeed, we learned a lot from the day trip visits. It is a valuable experience in the learning process that we don't have a chance to do it before.
Human resource management is a field which requires both the systematic theory knowledge and the practical experience. It is amazing that the module of Human Resource Practice 2 could give us the opportunity to have a comprehensive understanding by having organization visits and guest lectures. With the effort of school and the staff members, HRM students are able to go outside of the classroom and have full experience of how a real organization works and incorporates the HR theory into the best practice. Meanwhile, the programme also introduces HR staffs to the lecture making a speech and sharing not only the real HR strategies and activities implemented in both public and private organizations but also their own work experience as an HR practitioners for over decades. We truly appreciate these valuable opportunities and wish to have more in the coming semester.
Thanks again to our hosts, Olivia Thackstone in World of Wedgwood and to Maureen Scully and Daniel Cassidy in Jaguar and Landrover to make our visits possible. Thanks to Sam McVaigh and Shawnna Gleeson in Manchester City Council and Trish Chalk, in the Clinical Futures Team in Aneurin Bevan University Health Board, Wales to give us guest lecture sessions.
Note: This article gives the views of the author/academic featured and does not represent the views of the Global Development Institute as a whole.