Critical visions of development from the Global Development Institute: Uniting the strengths of IDPM and BWPI.
Find out more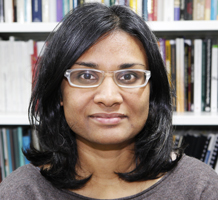 Gale holds a PhD in International Development Policy and Management from GDI. After completing a British Academy Post-Doctoral Fellowship with us, she joined Queen Mary University of London as a Lecturer in Economic Geography.
Why did you choose GDI for your PhD?
After earning my Bachelor's at the University of Michigan in Environmental Science and Policy, I went to work at the environment programme at the Charles Stewart Mott Foundation. I worked on international issues, including trade and finance, which opened a whole new world for me, and lead to an interest in globalisation and developing countries. I did my Master's of Public Policy also at the University of Michigan in International Economic Policy, and decided that I wanted to continue to work in international contexts.
In 2003 I went to work at an inter-governmental organisation called the South Centre, in Geneva, Switzerland. South Centre is made up of developing country governments, created as a think tank to promote their interests and pro-poor development. Most of the work during my three years there focused on assisting developing countries in their negotiations in the World Trade Organisation, working one-on-one with delegates.
Eventually, I wanted to be able to write my own papers on development issues and decided to pursue research, and came to do a PhD at the Global Development Institute. I chose GDI (then IDPM) for many reasons, but one was because it was interdisciplinary, housed in the School of Environment, Education and Development: although I wanted to focus on developing countries and trade issues, I was also interested in global environmental justice. GDI was able to marry all of those interests, though the PhD took a slightly different turn in the end.
My PhD was followed by two lectureships and I have just finished a three-year British Academy Postdoctoral Fellowship at GDI. read more…