In the last year, Professor Bina Agarwal has won three major international prizes for her work on gender, agriculture and development: the Agropolis Fondation Louis Malassis International Scientific Prize, the French Ordre du Mérite Agricole, and finally the Balzan Prize.
To mark this achievement, GDI's executive director David Hulme recently presented Bina with a token of appreciation ahead of a GDI public lecture by Vijay Joshi.  David remarked, "Getting one of these prizes in an academic career is excellent. Getting two is pretty much unheard of. Getting three in the same year is an achievement I've never seen before!"
Expressing her deeply felt thanks to David and GDI, Bina reflected on the shifting popularity of research issues, with a word of advice to doctoral students: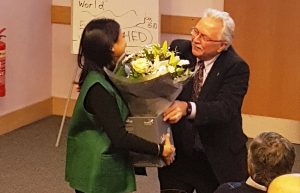 "When I began my research career over 35 years ago, agriculture was a popular research area, but little attention was paid to gender inequality by economists. Today agriculture has become somewhat unfashionable, while gender inequality has moved up the ranks, but it is still not centre stage.

People ask me what led me to work on these areas. I would say the most important factor was a deep interest in understanding the processes that underlie poverty and inequality, especially those predicated on gender, and to find ways of alleviating these deprivations and enable people to achieve sustainable livelihoods. This led me to focus especially on agriculture and the rural sector in developing countries, where most of the world's poor are located, but which also hold great potential for transformation.

I approach these subjects through the lens of political economy and gender. This lens led me to question many premises in conventional economics, and I often arrived at unexpected answers. So to doctoral students in this audience I would say, don't follow the fashion, challenge it!"
Note:  This article gives the views of the author/academic featured and does not represent the views of the Global Development Institute as a whole.