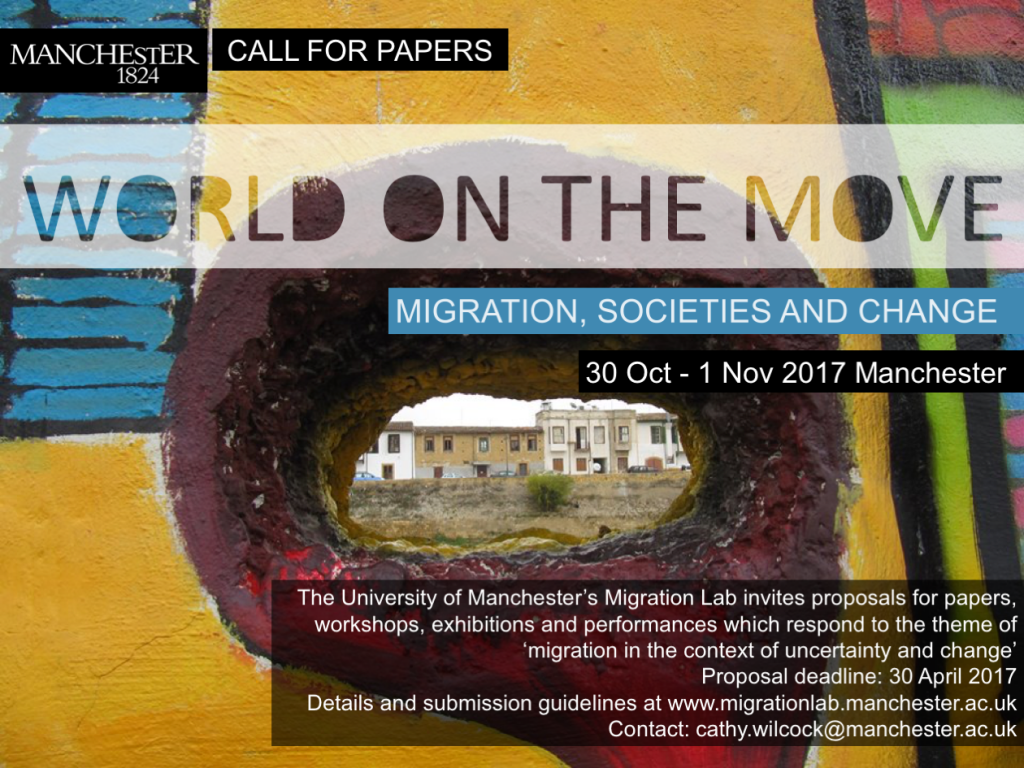 30 October – 1 November 2017, Chancellors Conference Centre, Manchester
The University of Manchester's Migration Lab invites proposals for papers, workshops, exhibitions and performances which respond to the theme of 'migration in the context of uncertainty and change'. For submission guidelines and information please visit the Migration Lab website.
Deadline for paper submissions: 30 April 2017
About the Conference
The conference will provide an arena for discussion, debate, and the development of future research projects. Plenary sessions from world-leading migration researchers, panels, and workshops will create spaces for the development of sustainable networks and relationships across the academic, policy, not-for-profit and media sectors. The first day will be a half day policy and politics event where distinguished speakers from policy, activist, NGO and media backgrounds will debate the question 'How is Brexit Britain responding to a world on the move?'.
Conference Themes
We invite proposals for papers, workshops, exhibitions and performances which respond to and confront the relationship between migration and the various social, political, environmental and economic upheavals currently in process worldwide. We hope to include discussions around issues such as forced displacement, asylum, labour migration, trafficking, diaspora, integration, citizenship and their reciprocal relationships with conflict, economic inequalities, hardship, climate change, political change and social   transformation. The following themes are intended as a guide:
1) Home, Borders, Identities
2) Media, Culture, New Populisms
3) History, Agency, Institutions
4) Languages, Narratives, Expressions
5) Methodologies, Research and Practice
Key Dates
Abstract Deadline: 30 April 2017
Notice of Acceptance: 30 May 2017
Registration: 15 July 2017
Conference: 30 Oct – 1 Nov 2017
Conference Committee Members
Dr Tanja Müller, Prof Bertrand Taithe, Prof Uma Kothari, Prof Yaron Matras, Dr Tamara West, Dr Cathy Wilcock
Contact
Cathy Wilcock, Migration Lab Co-ordinator and Researcher:  Cathy.wilcock@manchester.ac.uk