The Global Development Institute hosted a visit from the former Brazilian president Dilma Rousseff yesterday (Thursday 21 June) as part of a study tour she is undertaking across the UK.
Rousseff is a Brazilian economist and politician who served as the 36th President of Brazil, holding the position from 2011. She was the first woman to become the president of Brazil.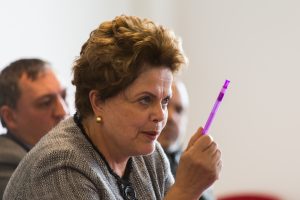 Rousseff attended a seminar of 20 researchers from the University of Manchester who spoke to her about their research but also questioned her for insight on the current political situation in Brazil, the country's development issues and challenges as well as her perspectives on global situations.
"It was a pleasure to meet a number of researchers from the University of Manchester interested in the development of Brazil and learn of the research they are doing to tackle the world's biggest challenges."
The discussion was chaired by Professor Khalid Nadvi, coordinator of the Rising Powers and Interdependent Futures research network, which has examined the growing global influence of Brazil and the other BRICs countries.
Professor Nadvi said: "The University of Manchester has a wide array of colleagues across a number of disciplines who have spent many years conducting meticulous research in Brazil, and with Brazilian academic colleagues. So it was a real honour to hear from former President Rousseff and to get her insights on the current situation in Brazil. We're delighted that she engaged so deeply with researchers at The University of Manchester."
Read more research:
Listen to:
Thank you to our PhD researcher Daniel Diaz Vera for his photographs of the event.
Note: This article gives the views of the author/academic featured and does not represent the views of the Global Development Institute as a whole