Governing Extractive Industries: Politics, Histories, Ideas is an open access title available which means it is free to read at Oxford Scholarship Online and offered as a free PDF download from OUP.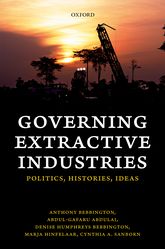 Proposals for more effective natural resource governance have traditionally emphasised the importance of institutions and governance, but say less about the political conditions under which institutional change occurs. Governing Extractive Industries synthesises findings regarding the political drivers of institutional change in extractive industry governance. It analyses resource governance from the late nineteenth century to the present in Bolivia, Ghana, Peru, and Zambia, focusing on the ways in which resource governance and national political settlements interact. The authors explore the nature of elite politics, the emergence of new political actors, forms of political contention, changing ideas regarding natural resources and development, the geography of natural resource deposits, and the influence of the transnational political economy of global commodity production.
This book has been several years in the making. Ideas for the research project on which it is based slowly began cooking in 2012 as part of wider discussions within the Effective States and Inclusive Development (ESID) Research Centre, an international collaboration of research centres coordinated by the Global Development Institute at the University of Manchester. ESID's unifying question is: 'What kinds of politics can help to secure inclusive development, and how can these be promoted?' This research project asked how one might understand the interactions between political settlements, extractive industry governance, and patterns of inclusion over the long haul. The authors had each worked on extractive industries for a number of years, and for each of them it was more than obvious that politics is central to how the sector is governed. However, the challenge of finding a formal language for talking about this political dimension, and of doing so in a way that would allow for systematic comparison and synthesis across different country contexts, piqued the researcher's interest. And so began the initiative that has culminated in this open access book.
The books chapters cover: resource extraction and inclusive development before looking at specific examples in Peru, Bolivia, Zambia and Ghana. Political settlements, competitive clientelism and political economy are also analysed.