Prof Diana Mitlin, Managing Director, Global Development Institute
While global attention focuses on the Kenyan election, a process that will (arguably) make a much more significant difference to the wellbeing of the more than 3 million residents of Nairobi is already underway: in August, Mukuru was declared a special planning area.
Mukuru is a large informal settlement, home to 105,000 families, on the edge of the industrial area in the south of the city. Like many similar areas in Nairobi, it has long been ignored by the authorities. For decades political leaders have simply seen the residents of Nairobi's informal settlements as a source of money. Land has been allocated by elites to elites. Nairobi's informal settlements are notorious for having a large number of landlords who are "structure owners", building shacks for tenants on land that they in turn rent from a smaller number of land owners. There is very limited access to formal services; instead a wide range of informal traders provide water and electricity. Frequently they operate as cartels establishing monopolies by force and charging whatever is possible.
However, in February 2017, Nairobi County announced the creation of a special planning area (SPA) in Mukuru. The Physical Planning Act lets subnational county governments designate SPAs to help plan neighbourhoods that have particular potential or problems or both. The SPA was gazetted on 11 August and all current developments are now suspended for two years with the Nairobi County Government initiating a participatory process to develop a Physical Development Plan for Mukuru.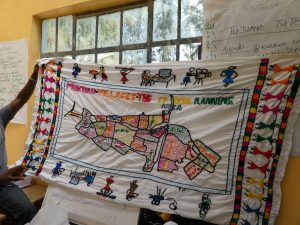 For those who are living in the area who have long been lobbying for improvements, the SPA is an opportunity to secure the homes that higher-income households take for granted. A Kenya-wide network of women-led savings groups, Muungano wa Wanavijiji (Swahili for 'united slum dwellers') has been working with two professional support agencies, Slum Dwellers International (SDI) Kenya and Akiba Mashinani Trust (AMT), to mobilise local residents and negotiate better development options. Muungano wa Wanavijiji is a 21 year old movement of low-income urban residents active in informal settlements.
Nairobi County was challenged to upgrade Mukuru by Muungano and their member savings groups after a long period of mobilisation in the area  Muungano highlighted the poor living conditions, drawing on a research project undertaken in collaboration with SDI Kenya, AMT, the Universities of Berkley, Nairobi and Strathmore, and the Katiba Institute. The research reported that average incomes were about £100 a month with 57% of residents receiving income either daily or weekly. An estimated 30% of the shacks are already double storey. The project documented the poverty penalty being paid by Mukuru's residents: unit electricity costs are 2.3 times that paid by residents in formal areas and unit water costs 4.4 greater. Only 3% of residents have toilets inside their dwelling. About 51% have access to a toilet within the plot (generally they are renting a shack room) and 45% access toilets outside the plot. The County had been working closely with Muungano in other pro-poor urban development projects in Nairobi and responded positively to these concerns.
The SPA is a chance to re-plan the urban future for these residents. Working together, Muungano and Nairobi County have drawn together 27 agencies (mainly NGOs, academics and government agencies) who are working in eight thematic groups to prepare details for the upgrading of the area. All current residents will be able to remain, although current densities make this a challenging requirement. Basic infrastructure and services will have to be installed and, in many cases, will need to be linked to city provision. Ideally systems will blend formal and informal providers to maintain the livelihoods of residents across Mukuru.
Mukuru's development will demonstrate that there is an alternative to current levels of deprivation and state neglect. Existing legislation provides for land sharing between tenants and structure owners, offering secure homes for those living in the area. Improved access to basic services will help to improve health and enhance income generation. The commitment to upgrading will demonstrate – in deeds not words – that Mukuru's residents have the rights and entitlements that higher-income Kenyans take for granted. In Sub-Saharan Africa, an estimated 62% of the urban population (about 220 million people) live in informal settlements. Many of these households rent their accommodation with little security. Many also lack access to adequate water and sanitation, and face considerable infrastructure deficits and lack of livelihood opportunities. WHO and UNICEF report that only 56% of urban sub-Saharan Africans have access to piped water and 27% use unimproved toilets or practice open defecation with considerable health risks in both cases. Informal settlements can be upgraded at scale – and Mukuru's redevelopment will show us all how that can be done.
For us at GDI, this appears to be a significant step forward in urban development. We work closely with Muungano and colleagues as part of the Scaling Up Participatory Planning Research Network (funded by the Leverhulme Trust), and look forward to learning from these experiences in the coming months.
Note:  This article gives the views of the author/academic featured and does not represent the views of the Global Development Institute as a whole.