On the 7 and 8 September 2018, two second year PhD students from the Development Policy and Management Programme, Kunkanit Sutamchai and Xi Xi, presented papers at the "12th Colloquium on Organisational Change and Development". This annual colloquium is organised by the European Institute for Advanced Studies in Management (EIASM) and is chaired by Dr Chris Rees of GDI.  This year the conference was held in Wroclaw, Poland and was co-chaired by Professor Grzegorz Belz from Wroclaw University of Economics.
The colloquium brought together international scholars and practitioners with a view to exploring a broad range of perspectives and insights. The theme of this year's event was "Organisational Change and Development: Science, Art or Alchemy?" During his keynote address, Dr Rees discussed the extent to which organisational change should be seen mainly as "an art" (encapsulating approaches to organisational change, which are more interpretivist, emotionally grounded and dialogic in nature); mainly as "a science" (involving more diagnostically and deterministically focused approaches to organisational change); or even as "alchemy"  (with few pre-determined principles and often involving almost magical transformations, which are difficult to predict, explain and manage).
The two PhD students share their experience as follows.
Kunkanit Sutamchai writes:
The paper that I presented in this conference was titled "The Importance of Ethical Leadership within Organisational Change Contexts: A Focus on Mindfulness and Ethical Leadership Development". Given that this was my first time presenting at an international academic conference, it was an exciting and unforgettable experience for me. I felt honoured to be presenting my paper in front of scholars and academics who are experienced in the organisational change and development field, and to receive constructive feedback and questions from them. I was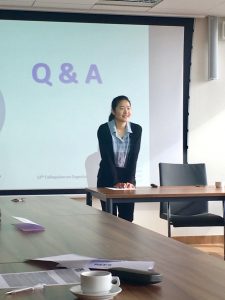 especially pleased and grateful that my supervisor Dr Kate Rowlands was at the conference and attended my presentation.
Participating in this conference was truly a beneficial experience for me in many ways. First of all, since this conference required all presenters to submit not only their abstracts but also their papers, it gave me great opportunity to learn how to write an academic paper based on the literature review chapter I completed during the first year of my PhD programme. As I have not yet collected primary data, it was quite challenging for me to write an academic paper based merely on the philosophical and theoretical ideas that I had reviewed from the existing literature. I couldn't have done this successfully without the guidance from my PhD supervisors.
Second, I had to apply what I knew about mindfulness and ethical leadership to the field of organisational change. This process helped me to enhance and expand my knowledge of themes I had covered in my thesis. Lastly, the experience to give a presentation at this conference was invaluable. I learned so much about interesting current issues regarding organisational change and development from other presenters. It was great that the discussion sessions at this conference were open for all to share and discuss their ideas in a friendly environment. Overall, attending and presenting my paper in this conference was one of my first big first steps in this PhD and academic journey that I will never forget.
Xi Xi writes:
It was my honour to attend the 12th Colloquium on Organisational Change and Development and present my paper "Organisational Change and Models in Higher Education Institutions: A Systematic Review". This conference contributed to my understanding of organisational change and enhanced my experience as a researcher.
When I first saw the "Call for Papers", I was very interested in the theme of the colloquium. I decided that I wanted to submit a paper even though I did not yet have any fieldwork data. So, I conducted a systematic literature review about the topic that was closely related to my PhD literature review. I learnt this systematic literature review method from my PhD colleagues and this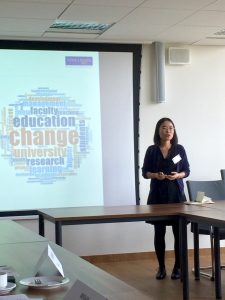 conference provided the opportunity to practise it. The results definitely contributed in a positive way to my PhD research. I also learnt new research methods and ideas from the conference. For example, one presenter proposed a method to increase the response rate of collecting questionnaire data online called 'One Question per Day', which means sending one question per day instead of sending the whole questionnaire. Another researcher demonstrated a way of identifying change leaders in an organisation through network analysis and data visualisation. Several researchers shared their experience in doing action research. All of the presentations increased my knowledge about research methods and expanded my research ideas.
Finding other people who shared similar research interest was another benefit for me. For example, at the conference, one research study was about exploring the role of middle managers during organisational change. This topic was one of the key objectives in my PhD research. It was an encouragement to know that there were others who were pursuing the same research goals. In addition, this experience enhanced my presentation skills.. Concentrating a lot of information and presenting it in a clear structure in a limited time period was really challenging. Yet this conference provided a friendly and supportive environment, which helped me to improve my skills. I was very pleased that my supervisor, Dr Kate Rowlands attended the conference and supported me throughout the process. Overall, I really enjoyed this experience. Attending conferences is a good way to learn, to practise and to communicate. I certainly intend to participate in more in the future.
We both wish to thank EIASM and Professor Grzegorz Belz and his colleagues at the Wroclaw University of Economics for their hospitality. Also we wish to express our thanks to Dr Kate Rowlands and Dr Chris Rees for the support they gave to us before and during the conference. Finally, we wish to acknowledge the support we received from the School of Environment, Education and Development which enabled us to participate in this event.
Kunkanit is a Brooks Doctoral College PhD student in the Global Development Institute. Her PhD thesis aims to investigate the influence of Buddhist mindfulness on Thai executive leaders' ethical behaviour and other outcomes of their Buddhist mindfulness practices. Email: kunkanit.sutamchai [at] manchester.ac.uk
Xi is a Brooks Doctoral College PhD student in the Global Development Institute. Her PhD research aims to explore the feasibility of middle managers acting as change agents in Chinese Higher Education Institutions. Email: xi.xi [at] manchester.ac.uk
Note:  This article gives the views of the author/academic featured and does not represent the views of the Global Development Institute as a whole.