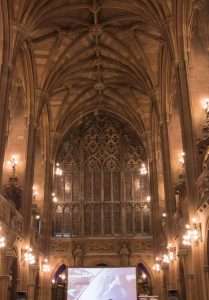 In the wake of Donald Trump's election and on Equal Pay Day, the Global Development Institute was proud to hold a free, public screening of The Divide at The John Rylands Library.
Around 60 members of the public attended the event in the Historic Reading Room and saw the film which was screened as part of the week long ESRC Festival of Social Sciences. The screening was also an example of our commitment to public engagement around addressing global inequalities – one of our five research beacons of excellence at The University.
The Divide film is inspired by the critically-acclaimed, best-selling book "The Spirit Level" by Professors Richard Wilkinson and Kate Pickett. It charts the story of seven individuals striving for a better life in the modern day US and UK where the top 0.1% owns as much wealth as the bottom 90%. By plotting these tales together, the film uncovers how virtually every aspect of our lives is controlled by one factor: the size of the gap between rich and poor.
Professor David Hulme, Executive Director of the Global Development Institute, welcomed the audience and closed the evening with a 30 minute question and answer session around where to start in terms of addressing these inequalities and conversation on how economic division creates social division.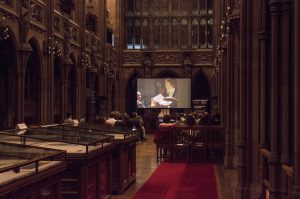 You can read more about Professor Hulme's thoughts on income inequality in his recent piece for The Guardian or you can read his book on the divide between rich nations and poor in Should Rich Nations Help The Poor?
To watch the film visit Netflix or Amazon video.