Pete Jones, Postdoctoral Fellow, School of Social Sciences, The University of Manchester, Jackie Carter, Co-director University of Manchester Q-Step Centre, School of Social Sciences, The University of Manchester,  Jaco Renken, Co-director Centre for Digital Development, Global Development Institute, The University of Manchester and Magdalena Arbeláez Tobón, Data-Pop Alliance, Columbia
In 2015, the United Nations launched its 2030 Agenda for Sustainable Development. The 2030 Agenda constitutes a broad and ambitious plan which centres on 17 overarching Sustainable Development Goals (SDGs), comprised of 169 associated development targets and 232 indicators with which to measure progress.
In order for countries to meet these targets, they need to invest in the production of data and the accompanying skills and literacies necessary to use these data to generate knowledge and evidence for effective policymaking. As such, the UN Independent Expert Advisory Group on a Data Revolution for Sustainable Development has acknowledged that delivering the current agenda requires "a huge increase in the capacity of many governments, institutions and individuals". National statistical systems in many countries face significant challenges given their limited budgets, resources, and access to staff with the required statistical literacies to gather and analyse the relevant data.
Home-grown data literacy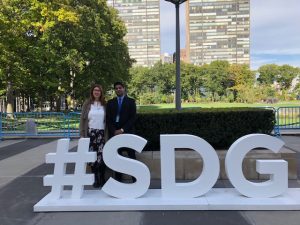 In response to this call, there is an increasing recognition that the focus should be on building capacities that are home-grown, long-term and designed to provide the foundations on which future social transformation can take place.
This is reflected in the Capacity Development 4.0 framework recently developed by the Partnership in Statistics for Development in the 21st Century (PARIS21), which aims to "go beyond the traditional production-side interventions to also include the strengthening of data use, literacy and results". This framework recognises that data alone will not be sufficient for meeting the challenges of the SDGs, and that countries require investment in data skills and literacy in order to sustainably improve the capacity for effective use and understanding of data.
This perspective acknowledges that both the short-term monitoring requirements of the SDGs and the longer-term development goals they represent can be met by promoting in-country skills development. Programmes are needed to strengthen in-country pipelines for individuals to gain data literacy and skills relevant to the sectors working on core sustainable development challenges.
The benefits of data literacy go well beyond the implications of the SDG framework. Data skills are crucial for social and economic innovation and are increasingly seen to be a fundamental dimension of informed participatory citizenship in the information age. However, statistical education levels remain low in many parts of the world. This stems the flow of qualified talent into important institutions where data literacy is particularly needed such as the media, government and public institutions.
Moreover, acceleration in the rate of digitisation and datafication on a global scale, especially visible during the recent COVID-19 pandemic, emphasises not only the need for more skills in this area, but different, emergent skills.
The new global development paradigm posits that the local pipeline for statistical and data literacies must include trans-local collaboration and awareness to effectively address socio-economic development requirements. Competency in data justice is one example of the kinds of skills needed; it seeks to address the structural and ethical injustices in the use of data for development, including measuring and tracking progress with the SDGs.
Thinking of statistical capacity development in terms of strengthening the data literacy pipeline allows us to focus on the ways in which statistical and data education programmes can complement capacity development efforts. However, one of the obstacles to data literacy development is that statistical education materials are often developed in high-income Western countries. As Adriana D'Amelio of the International Statistical Literacy Project has noted, this not only presents a language barrier, but also a cultural barrier, as the materials often do not make sense in the context of non-Western societies.
Working on practical problems with real data is crucial to developing the ability to apply statistical reasoning and an understanding of data issues effectively. As such, there is a need for citizens to learn data skills by working on problems that are relevant for their own country.
Partnerships will be key in these efforts. Partnerships – represented explicitly in the SDG framework as Goal 17 – can enable countries to capitalise on the opportunities to access skills, data and analytical capacities that already exist in-country, such as those found in academia, civil society and the private sector. By strengthening the links between institutions and organisations across these sectors, the pipeline for statistical and data literacies can be strengthened, ensuring pathways for qualified and motivated talent to work on the urgent development problems represented by the SDGs. SDG 17 also encourages global partnerships – between different countries, governments, NGOs and other development stakeholders.
EmpoderaData partnership
The EmpoderaData project – a partnership between The University of Manchester and Data-Pop Alliance – aims to tap into these currents and opportunities by establishing a programme of paid data fellowships in Latin America. These fellowships will see talented participants receive focused training in foundational statistical and data literacies, before being placed in a partner organisation to work on real problems related to the SDGs with real data.
This experiential learning model not only capitalises on the already existing skills and data available in-country, but also ensures that fellows will be honing their data skills on problems that are relevant to their society. The programme is intended to widen access to and interest in data-oriented approaches to addressing social challenges, thus creating a positive cycle wherein the skills of the future are developed while working on the most pressing challenges of the present.
EmpoderaData looks to build on the success of Q-Step, a £19.5m educational programme developed as a strategic response to the shortage of quantitatively-skilled social science graduates in the United Kingdom. The programme funded 15 Q-Step Centres. The University of Manchester Q-Step Centre developed a paid internship programme, placing 250 undergraduates over the last 7 years in organisations including local and national government, charities, statistical institutes and research consultancies, to work on real quantitative data-driven projects that could help them to practice and develop their professional and analytical skills. Many of these internships resulted in graduate job offers, and even more led to valuable connections between the partner organisations and the higher education institutions.
The aim for EmpoderaData is to achieve similar outcomes in producing long-term transformative pathways for data literate talent in Latin America. Building a network of partner organisations in selected countries, and working with those partners to understand the needs of their society and tailor the model to be most effective in meeting those needs, is therefore critically important.
Following successful pilot research establishing the baseline and interest in three countries, the next stage will deploy the fellowship model in Colombia, with a view to scaling up the delivery across the region in the following phase. This activity will take place in parallel with a similar initiative being developed in Sao Paolo, Brazil.
Overall, the project sets out to create stronger data literacy pipelines in Latin America, to ensure that countries are better equipped to find innovative solutions to social challenges, and can draw from a larger pool of home-grown talented data literate individuals to meet the particular statistical challenges of the sustainable development agenda.
We invite interested organisations and individuals to get in touch with us by e-mailing Jackie Carter.
Note:  This article gives the views of the author/academic featured and does not represent the views of the Global Development Institute as a whole.