We are pleased to announce that Deals and Development, a book resulting from Effective States and Inclusive Development research on the politics of growth, has been published.  You can also read an Open Access version of the book here.
The book is edited by three leading thinkers on the politics of economic development, Lant Pritchett,  Eric Werker and the GDI's very own Kunal Sen. The book also featured chapters from GDI researchers; Sam Hickey, Pritish Behuria and Matthew Tyce.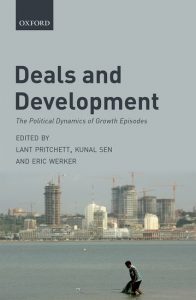 Provides a novel framework for understanding how growth episodes emerge and when growth is maintained for a sustained period
Draws on country specific examples to ground theory in practice
Explains actionable methods of intervention to improve a country's chance at achieving transformative economic growth
The book has already had excellent reviews from leading economists including Professor William Easterly, James A. Robinson and John Wallis.
"The Holy Grail of development is a flexible framework for understanding when the political circumstances are consistent with the economic activities we all know lead to growth. Explaining this flexible framework in detail, Deals and Development advances a powerful set of new concepts."
James A. Robinson, University Professor, University of Chicago
You can pre-order your physical copy, download the Open Access version of the book and find out more here.
Here at the GDI we think Open Access is really important, read our blog from Diana Mitlin to find out why.
Note:  This article gives the views of the author/academic featured and does not represent the views of the Global Development Institute as a whole.