Suzette van der Walt
A diverse group of students, community leaders and NGO representatives and academics recently came together at the University of Johannesburg to develop the 'codes of engagement'; a short practical guide on participatory urban planning
The main aim of the workshop was to develop a series of principles and strategies with which future socio-technical practitioners could engage in developing urban planning that support the University of Johannesburg's Graduate School of Architecture's 'Alternative Practice' Module. Spatial design and engagement agency 1to1 has been working on developing these strategies over the last few years and were very resourceful and valuable in the design of this workshop along with critical designer, Orli Setton.
Using a brainstorming method, groups with representatives from all levels of practice and community engagement developed a list of do's and don'ts for participative urban planning – ideas which seemed integral to certain represented disciplines, and less to others. The result was a strategy for holistic practice that takes That takes into account more than the merely physical development factors.
The method presented 5 incomplete statements to which participants added the do/don't conclusions. The statements prompted the participants to determine what we should and shouldn't do when we: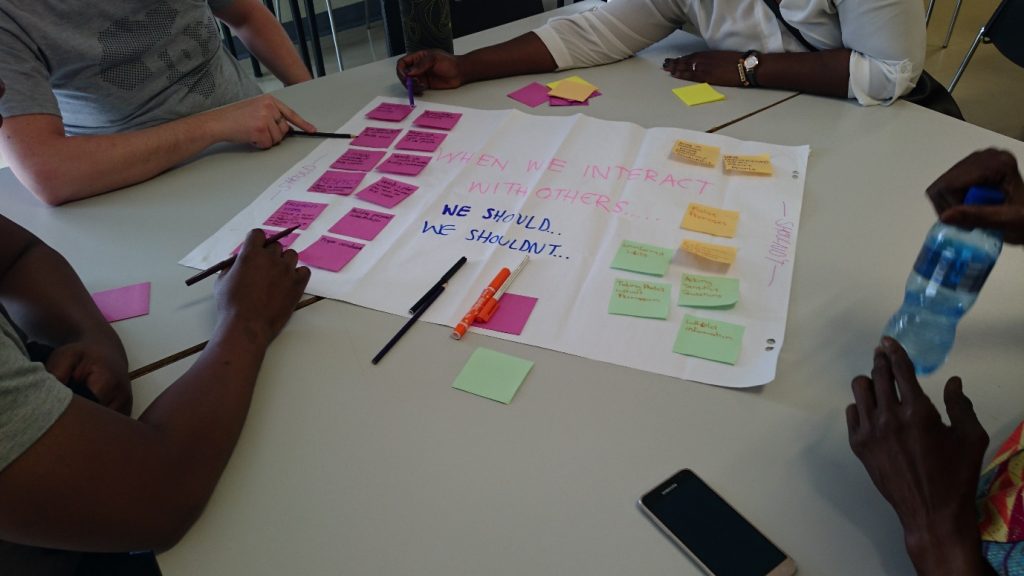 Design
Build
Share
Interact
Research
The major conclusion drawn from the first two queries; those of designing and constructing/building was the importance of communication during the development process. Effective communication -which often involves listening and not speaking- is the major tool for participative processes in urban planning. Such a system for communication not only creates a platform for the development of systems and processes but also increases the likelihood and efficacy of scaling up these systems and processes – creating a resilient and long-lasting practice.
The second and third statements dealt with how this communication should take place. It highlighted the often-overlooked issues of social stigmas and preconceptions that practitioners may not always necessarily take into consideration, but the effects of which are often felt in poor, unproductive interaction and information dissemination.
The final statement addressed the often-contentious issue of ethics and research. Researchers are often accused of exploiting communities during research based around participatory practices. This segment of the workshop allowed non-academic participants in the workshop to, in a safe space, be probed into the practices they feel could be incorrect/unethical when dealing with communities. It also allowed those from an academic background shed light on research best practice to generate resources for future application which can be adopted well after the final research product has been created or achieved.
The workshop gave rise Codes of Engagement, a valuable resource that can be easily accessed by students, community and technical professionals to share on a global platform and can form the basis of future workshops and programmes.
Where to from here?
We're hoping to host a second workshop in which we demonstrate the UISP (Upgrading of Informal Settlements Programme) – keeping the codes of engagement in mind.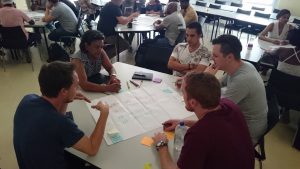 The UISP is part of the Department of Human Settlements' strategy for the upgrading of informal settlements and it is thus crucial for the involvement of government in this workshop. We will also enlist the involvement of community members and possibly that of planning/architecture students.
As a study area, a block of Slovo Park has been identified as suitable for this workshop – something only possible because of the long-standing relationship between 1to1 and Slovo Park.
We anticipate a rigorous, high intensity workshop in which we involve stakeholders who will be able to make informed decisions as to the future of Slovo Park using the UISP process. We hope to collate all research and produce a resource to not only prove the process but to improve on it and suggest future strategies for similar workshops, in Slovo and worldwide.
Read more on Scaling up Participation in Urban Planning: How community involvement in urban development can help achieve inclusive cities
Find out more about our Master's programmes. 
Note:  This article gives the views of the author/academic featured and does not represent the views of the Global Development Institute as a whole.